Allegheny Valley Worship & Service Center
917 Brackenridge Avenue
Brackenridge, PA 15014
Phone: 724-224-6310
Monday - Friday 9:00 AM - 4:00 PM
Lieutenants Alexander & Kelsey Senak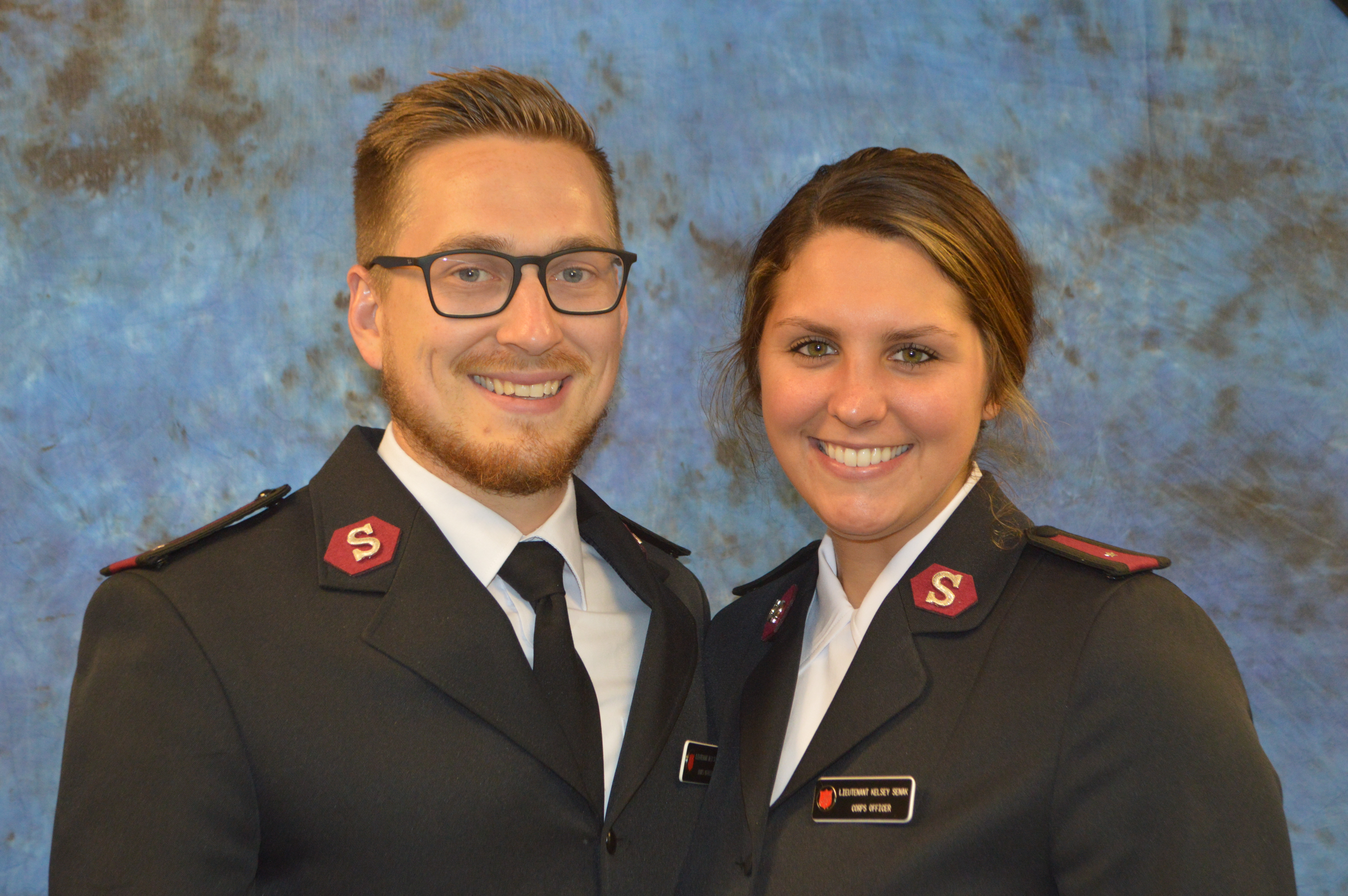 Email alexander.senak@use.salvationarmy.org | kelsey.senak@use.salvationarmy.org
Office Hours: 9AM - 4PM (Closed 12-12:45PM for lunch)
This office serves the zip codes of: 15006, 15014, 15030, 15032, 15049, 15065, 15075, 15076, 15084, 15238
---
---
Schedule
Sunday:
10:00 - 10:15am - United Sunday School Gathering
10:15 - 10:45am - Sunday School: Including –Baby class (0-2), Nursery class (3-6), Middlers (7-12), Teen Class (13-18) and Adult class (18 and up)
10:45am - Prayer Gathering
11:00am - Holiness Meeting
2:00pm - League of Mercy (Nursing Home Visitation); Every 3rd Sunday of the Month
---
Monday:
9:00 - 4:00 - Social Services
---
Tuesday:
9:00 - 4:00 - Social Services
3:00pm - 4:00pm - Open Recreation
3:00pm - 3:30pm - Corps Cadets
3:30pm - 4:00pm - Bible Bowl
5:00pm - 6/6:40pm - Women's & Men's Ministries
6:30pm - 8:30pm - Basketball (Ages 13+)
---
Wednesday:
9:00am - 4:00pm Social Services
4:45pm - 5:15pm - Supper Club
5:15pm - 5:45pm - Troops: Explorers (Boys –grades 1-4)/Rangers (boys –grades 5-8)
Moonbeams (boys and girls ages 4 –6 (until they enter the 1st grade)
Sunbeams (Girls –grades 1-5)/Girl Guards (Girls –grades 6-12)
5:45pm - 6:15pm - Beginner and Advanced Timbrels
---
Thursday:
9:00am - 3:00pm - Emergency Food Bank
9:00am - 4:00pm - Social Services
5:00pm - 6:00pm - Prayer Meeting
6:00pm - 7:00pm - Teen Night
6:00pm - 7:00pm - Adult Bible Study
---
Friday:
9:00pm - 4:00pm - Social Services
11:30am - 1:00pm - Community Soup Kitchen
1:00pm - 3:00pm - Senior Fellowship
Love in a Backpack (food distributed to local schools)
---
Saturday
No Program
---
Emergency Food Bank:
Thursdays 11:00AM -3:00 PM
Donation bin is located in the alley behind the corps. Call 1-800-95-TRUCK for pick-ups.
---
Programs:
WOMENS MINSTRIES(Home League):is a personal improvement program for all women ages 16 and up. The women meet weekly to focus on one of the four program elements: Worship, Education, Fellowship and service.
MEN'S FELLOWSHIP CLUB: is a personal improvement program for men ages 16 and up. They meet weekly for social interaction, study and service- whatever interests them. The Men's Fellowship Club joins the Home League for family enrichment programs.
BIBLE STUDY: is open to the public. We have a well-balanced Bible Study that will renew and feel the soul.
CORP CADETS: is a teen bible study for children 13-18 years old.
BOYZ CLUB: is a "troop" based program much like Boys Scouts for boys 6-18. With two classes Explorers(6-11) and Rangers (12-18). They will receive badges and learn about the world around them and the god that created it.
SUNBEAMS(6-10) / GIRL GUARDS(11-18): are social development programs comparable to the "brownies" and "Girl Scout" groups. The girls study and participate in activities to earn badges. These studies prepare the girls to be contributing members to society in the future. Keeping active with learning prevents them from being "at risk" citizens to society.
SUPPER CLUB: is a program where they get a devotional to start are club night off then they receive a meal.
TEEN CLUB: a fun program where teens fellowship together every Friday. Call option 2 for details.
EVER-FI COMPUTER LEARNING PROGRAMS - Interactive educational computer skills courses and Love in a Backpack - providing food packets to students in two local schools in the Highlands School District
BIBLE BOWL: is a competitive bible trivia team for teens (13-18). They study a book of the bible and go to competitions.
COMMUNITY CARE MINSTRIES: (trips every 3rd Sunday) Provides an opportunity to share love. They visit nursing and rest homes, as well as individuals that are shut-in and live on their own. The children who are starting young at Sharing & Caring for the sick and elderly by singing, visiting and sharing their time, energy and of course lots of hugs! We also do seasonal visits every Christmas and Easter.
SUMMER PROGRAM: we offer a different schedule for the summer. With lots of different activities for children and adults alike. Call option 2 for more details.
CAMP ALLEGHENY: is a residential camp operated by the Salvation Army Western Pennsylvania Division. Every summer, 20-30 kids from Allegheny Valley area spend a week at camp. They have time for recreation and swimming. In addition, children have a variety of classes to choose from such as music, nature, sports, home life, Bible and so much more!
COMMUNITY AWARENESS: is something we strive to achieve in the Allegheny Valley Corps. We accept donations of food, clothing, toys and money to help our Christmas effort. We also worked with the local Rotary and have become a member of the Chamber of Commerce to provide new avenues to serve the public.
---
Lieutenant Alexander Senak Commanding Officer - extension 3
Lieutenant Kelsey Senak - Commanding Officer - extension 4
Rachel Roten - Case Manager - extension 1
Dustin Norcross - extension 2
Ivy Alworth - Office Assistant - extension 5
Catherine Switzer - Food Ministry Coordinator - extension 0
Updated: September 19, 2016